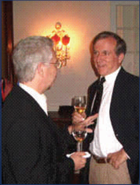 Nearly 200 people met in Washington, DC after Memorial Day for the 11th US/ICOMOS International Symposium "US Participation in the Global Heritage Community." As a follow-up to the Preserve America Summit, the US/ICOMOS Symposium included both plenary and breakout sessions to provide examples of US involvement with international projects and exchanges and to allow participants the opportunity to make their own recommendations for strengthening US participation in the international heritage arena.
Beginning with a Wednesday evening public lecture by Mr. Omar Sultan, Afghanistan's Deputy Minister of Culture, and concluding with a Saturday evening reception celebrating the 25th anniversary of the US/ICOMOS International Exchange Program, the symposium was highly successful in harnessing the energy and experience of US/ICOMOS members and others in attendance toward the development of a series of resolutions, which in essence form the basis for a strategic plan for US/ ICOMOS, its members, and partner organizations to move forward on a variety of endeavors.

US/ICOMOS is grateful to the numerous individuals and organizations who provided support for the symposium. Particular thanks go to Fred Hiebert, National Geographic Society, for his help with the public lecture and his introductory remarks to the US/ICOMOS visit to the special exhibit "Afghanistan: Hidden Treasures from the National Museum, Kabul." Also, special thanks go to the session chairs, Kirk Cordell, John Fowler, Heather MacIntosh, and Jonathan Poston, for leading the discussions and summarizing the recommendations.
More Information