Virtual Celebration of World Heritage
Saturday, December 19, 2020
5 pm EST on Zoom

Digital Program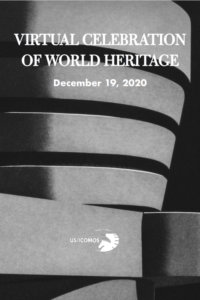 Click on the above image to access the completed program. 
Featured Speakers
The Honorable Irina Bokova
Former Director-General, UNESCO
The Honorable Congresswoman Deb Haaland
U.S. Representative from New Mexico's 1st Congressional District
US/ICOMOS Fellow Ronald Lee Fleming 
We wish to express our deepest gratitude to our distinguished colleague, US/ICOMOS Fellow, Ronald Lee Fleming. All of the proceeds from our Celebration of World Heritage will be generously matched by the Ronald Lee Fleming Matching Challenge Grant, up to $200,000 . We are most grateful for Ron's support to ensure a bright future for US/ICOMOS!

Benefit Committee
PLATINUM
Jan C. K. Anderson
Honorable William A. Bell, Sr. & Dr. Sharon C. Bell
Elizabeth & Douglas C. Comer, Ph.D.
Archer St. Clair Harvey
Sheree Wen
GOLD
Kent Diebolt, 1% for the Planet
Milford Wayne Donaldson, FAIA
John M. Fowler
Peyton Hall, FAIA
Brian Michael Lione and Hillori Schenke
National Trust for Historic Preservation
Kathryn H. Washburn
Timothy P. Whalen
SILVER
Stephen Farneth, FAIA & Elizabeth Rintoul
Kate Montague Perry
Robin Tauck
BRONZE
Jennifer Aultman
Brenda Barrett
Bo & Susan Ciaverelli
Cultural Heritage Partners, PLLC
Ellen Delage
Grant Gilmore III
Gray & Pape Heritage Management
Nan R Gutterman, FAIA, FAPT
& William H. Irby
Gunny Harboe, FAIA
Destry Jarvis
Pamela Jerome
Randolph Langenbach
Zoe Leung
Christy Johnson McAvoy
James & Carol Reap
Kak Slick
Todd Stephenson
Kathryn Wollan
SUPPORTER
Michele Aubry
Tom J. Cassidy
Caroline Cheong, Ph.D.
Theresa Donnelly
Nancy Farrell
Christine Grubbs
Gareth Morgan
Andy McLeod
Richard Murphy
Former Director
Prince William Public Library System
Kaitlin Paecklar
Laura Purvis
Alison Ross
Bret Ruby
Carol & Joe Shull
Rhonda Sincavage
Caitlin E. Smith
Dr. Lea Shanley
Jennifer Spreitzer
Karl Stumpf
Jeanne Marie Teutonico
Special Thanks
We wish to express our heartfelt thanks to the staff and volunteers who made this event happen: Anne Comer, William Humphrey, Olivia Lichens, Jenny Spreitzer, Po Han Su,  Nicole Ursin, and Tennessee Williams.