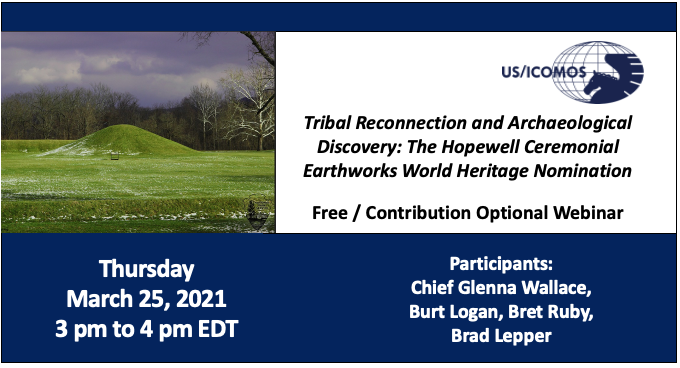 Thursday, March 25, 2021, 3 to 4 pm EDT
Eight vast 2,000-year-old American Indian earthworks in the middle Ohio River Valley constitute the Hopewell Ceremonial Earthworks World Heritage nomination. Conceived and designed as ceremonial centers, these immense earthworks are the finest expressions of the cultural flowering and distinctive genius of Indigenous peoples who participated in a social or religious movement that touched much of North America. Learn how two major changes over the past dozen years are transforming understanding and interpretation of these amazing places: first, reconnection of American Indian Tribal nations that were forcibly removed from Ohio in the 19th century, and second, advances in methods of archaeological research and interpretation. Chief Glenna Wallace of the Eastern Shawnee Tribe of Oklahoma, National Park Service staff and Ohio History Connection staff will share how the prospect of World Heritage designation is propelling these changes, which in turn fuel a vision for full collaboration and co-management in the near future.
OUR SPEAKERS
Chief Glenna Wallace, Shawnee Tribe of Oklahoma.
Burt Logan, Executive Director and CEO, Ohio History Connection. 

Bret Ruby,Chief of Resource Management, Hopewell Culture National Historical Park.